So it's been a couple of days since my last post, so I thought I'd talk about a movie I saw while I was out.
Requiem for a Dream. I'm sure you've all heard of it. It starts the lead singer of 30 Seconds to Mars (I forgot what his name was, but he has some damn nice eyes) and Jennifer Connelly (who's in an "anal-to-anal" scene O.o)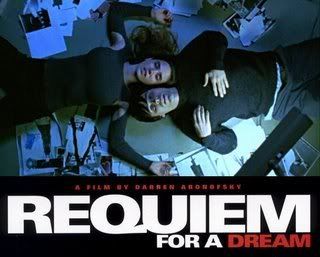 Anyways, onto the review.
Words can hardly describe the experience of watching this powerful film. It's about different forms of addiction, and it pulls no punches in its depiction of the inevitable downward spiral of its four main characters. Not only should you see it for the message, but for its cinematic inventivness. Visually, It's hard to compare other movies to it. The only one that vaguely come to mind is Trainspotting. The cinematography, sound, editing, music and visual effects are top-notch and will blow your mind.
The acting honors here go to Ellen Burstyn, who gives an incredible performance as the poor, naiive Sarah Goldfarb. Watching her deterioration (both mentally and physically) is heart-wrenching. Burstyn gets great support from the rest of the cast as well, particularly Jared Leto (See, I remembered his name) and Jennifer Connelly. Also, those familiar with Marlon Wayans' comedy roles will be very surprised with his subtle, convincing portrayal of enterprising heroin addict Tyrone.
The last 20 minutes of this wonderful, haunting film will leave you on edge as the storylines of all 4 characters climax simultaneously (hahaha, you pervs)
Anyways, as I mentioned before the soundtrack in this movie is simply amazing. Here's the signature theme of the movie